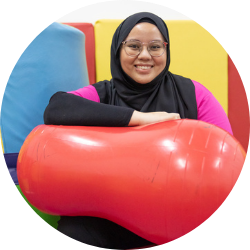 Dhania is an Occupational Therapist. She earned her Honours Degree from Universiti Teknologi MARA and is a certified sensory integration practitioner. Dhania developed a strong passion for paediatrics from her various volunteering and clinical experiences.
She believes that by shaping a child's foundational skills, each child has the opportunity to flourish in their own unique way. Through meaningful activities that are both fun and motivating, she strives to bring out the best in every child by harnessing their strengths. She is also passionate in empowering parents to be their child's biggest cheerleader through active participation and compassion.
If you'd like to learn more about our services, please don't hesitate to contact us. We will support you in making the right decision.
Want to be the first to be notified for our upcoming events?
Sign up to our newsletter to get educational content, updates & news for any of our upcoming events.